Many of us seem to struggle with loneliness. But why? In my book, Just Be Love: Messages on the Spiritual and Human Journey. There is a chapter on Love and Loneliness. I mention there's a contributing factor to many illnesses today, and this factor is one you would likely overlook.
It gets little society attention, yet  research is showing it's impacting our lives in  subtle and tragic ways. I believe the number one illness today is: Loneliness – Social Isolation.
A disconnect with ourselves and each other creates quiet, yet dangerous traits of social divide and discontent.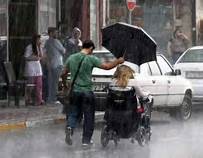 For many people today, there appears to be a greater strain and avoidance to connect with ourselves, each other, and with our Source (divine). The consequences of this disconnect for us and our planet's well-being is becoming more apparent and more critical with each passing day.
Studies are now showing, the loneliness factor is a link to many major illnesses and disorders, such as: high blood pressure, heart disease, cancer, depression, etc.
In addition, loneliness contributes to many forms of addictions, like: drugs, alcohol, gambling, obsessive internet use and internet porn. Even crime and violent behavior toward others and/or self like: mass shootings or suicide have a connection to loneliness.
Lonely in Relationship
The most terrible poverty is loneliness, and the feeling of being unloved.—Mother Teresa
Many people in relationship or friendships often speak of being lonely. Not cared about, not understood and/or appreciated for who they are, and what they offer to the relationship.
Two Relationship Fears
There are two common relationship fears:
1. The fear of being Alone.
2. Fear of being Smothered.
Most people with stay in a unhealthy relationship due to fear of being alone. However, people will likely leave a relationship or friendship sooner, if they feel they are being smothered in it.
Fear keeps us stuck in what we don't want and is unhealthy for us.
Fear of loneliness often keeps people in loveless and unhealthy relationships. People stay in what they believe is familiar, for this is perceived as safe and secure. However, it's really a false sense of security.  Staying in what's familiar, yet unloving, unhealthy, perhaps even dangerous; will in time weaken our immune system. Thus, making us more susceptible to physical and/or emotional struggles and dis-ease.
The Avoidance of Self
Many people go into relationship as a way to avoid themselves. I don't love or value myself, so I make the person I'm in relationship with, responsible for my happiness. They are in my life to full my own inner void of discontent.
To make others responsible for my own happiness, is a setup for disappointment, conflict and much discord in the relationship.
If we don't first and foremost love ourselves and have a degree of inner happiness, we will consciously and especially unconsciously, create expectations and conditions as to how the other person is to love and be in relationship with us.
There is a paradox when it comes to the concept of relationship and loneliness.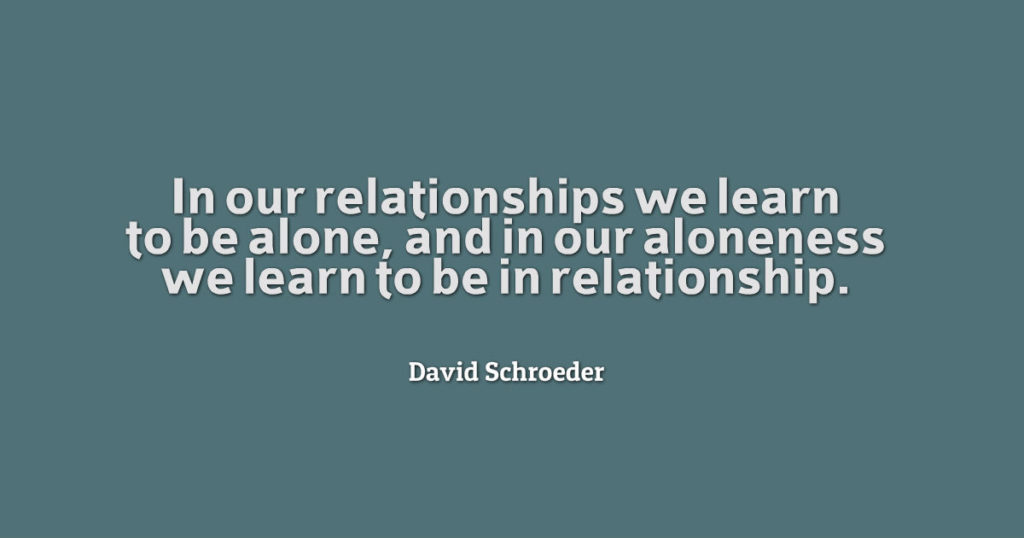 The reality is, all relationships end, ultimately in the physical sense, with death. So at some point we will be alone in the loss of a relationship. It is through being alone, however, that we have the opportunity to learn to have a loving, accepting and compassionate relationship with ourselves.
When you can be alone and not be lonely. You will have learned self-love and inner contentment.
For when we are loving and accepting with ourselves, we have filled our inner void. We are comfortable with ourselves. So we are not needy or dependent on others for our happiness and contentment. We then will freely extend this love and acceptance to others. This is the hallmark of a quality and healthy relationship.
We can be happy in a relationship, but the person we are in relationship with; is not to be made responsible for our own happiness. That's our own inside job.
My Own Contemplation
In my 25 plus years in the human service and development fields. I've concluded that the main reason for one's feelings of loneliness is spiritual disconnect, i.e. a loss of faith and connection in a power greater than one self.
This disconnection manifests itself in the unwillingness and/or avoidance to connect with Source. This in turn, creates a loss of faith and belief in oneself. This disconnect with self and a higher power, will than manifest into the disconnect of meaningful and healthy connection with others.
This disconnect, results in seeing the world and one's life through the lens of fear, separation, neediness and unworthiness.
I believe spiritual disconnection and the loneliness that comes from it, are the result of being defined by our ego's self-created negative story, which we repeat to ourselves and others.
Spiritual disconnect also creates a lack of awareness and the openness to explore and ultimately answer the fundamental spiritual questions: Who Am I?  Why am I here? What's my purpose?
When we feel no relationship with Source, these questions seem to have little meaning and merit to explore and answer. Without the recognition that we come from love and the infinite Source of the universe, we can neglect a meaningful sense connection, sense of purpose or direction in life.
We have a void in the awareness and appreciation of the spirit within us; which creates low self-esteem (the perception and belief of separation, the loss of the spirit within).
The Illusion of Separation
The perception and belief of separation is the main driver of our ego, its a created illusion, we can make very real. Separation and loneliness doesn't exist.  The reality is, we are included and surrounded by an infinite universe and all that makes it be. We are the universe and the universe is us.
Just because someone in your life, rejected you, abandoned you, betrayed you, etc. doesn't mean the entire world or universe did the same. Our ego and shadow aspects tends to project an 'all or nothing",  "I feel it, therefore I  believe it" belief system, that creates a "must be true" way of being and living.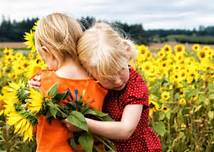 We are called within our wounds and belief of separation to acknowledge, we have forgotten the truth of our essence. We are called to open our eyes and heart more fully to see and embrace the higher truth.
We are included, we do matter… We are Love, innocence and goodness. This is our remembering. 
Loneliness and Our Well-Being
On physical, mental, emotional, social and spiritual levels we are designed to connect with each other, our world and universe. Relating is part of our essence as a human energy system.
Research, indicates that loneliness has become a social epidemic. It's affecting our health and sense of well-being, leaving many to feel alone, deprived and powerless.
Driven to Distraction
There is another dynamic happening that contributes to loneliness―the explosion and abundance of technology―the way we connect, communicate and entertain ourselves. Advances in technology, have in one sense been very helpful, but the more we're driven to connect through computers and iPhones, we lose a sense of personal understanding, of our need for each other and for real, genuine human connection. These distractions have increasingly created superficial connections with each other.
Recent studies tell us that our iPhones, computers and video games are subtle yet dangerous obsessions, leading to addictions for both adults and youth. Studies show that when people's iPhone or computers are taken away for three or four days, many of the subjects had withdrawal symptoms similar to someone who has a gambling or drug addiction.
Without the use of the phone or Internet, the subjects became anxious, easily agitated and depressed. Many people obsessed with cell phone or Internet use are doing so to escape loneliness and boredom. Yet, it's making them more isolated and unhappy.
Distraction seems to be a common and acceptable norm today. Have you noticed yourself or seen others sitting next to each other, and their conversing by texting each other. Or one person is talking trying to converse with the person next to them; while the other person is on their phone texting or looking at their email, not paying attention to person they are physically next to?
Research shows the average person looks down at their phone 150 times per day, this amounts to nearly 4 years of their life. That's just your phone, if you included looking at your laptop iPod, TV, etc. How many more months or years are added to looking down?
Our man-made distractions are diversions from the infinite love and connection available to us. These distractions and diversions can cause us to have a sad, lonely heart, and may lead us into states of anxiety and depression. Our distractions are superficial ways of finding meaning and purpose in our life.
Create Balance
To reduce the negative effects of these distractions, and enhance quality human connection, the value of balance becomes apparent.
To create balance we need a sense of connection and support. We are first and foremost spiritual beings. So we must create time and opportunity for genuine connection.
Here are some helpful tips for creating this balance and meaningful connection:

Be aware. Discipline yourself to strike a healthy balance between the use of technology, your interpersonal relationships and work commitments.
Commit to more face to face time/interaction rather than just Face time through social media use.
Integral to maintaining this balance is commitment to periods of quiet reflection and spiritual retreat, either alone, in groups or both.
Take walks or other mind, body, spirit practices, i.e. meditation, yoga, gardening.
Look up and reach out to your neighbor, your world and the universe.
Get to know your neighbor and be a good/helpful neighbor.
Join or start a meetup group, volunteer, throw a party.
Live more from your heart-center. Practice gratitude and be of service.
Connect with your feelings and emotions and learn from them.
Love and support yourself, others and our planet. As spiritual beings, we are designed to create soul-full communion and meaning in our lives.
In Closing
Our current times of stress, uncertainty and extremes call us to a deeper more accepting and compassionate connection with our self, our neighbors, our planet and our Creator.
We are called to create healthier balance between use of technology and true social connection. Life and its experiences invite us to come together in love, acceptance and unity.
Loneliness is the result of distractions, judgment, fear and exclusion.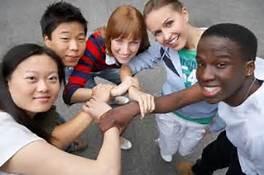 Connection, however, is grounded in love, attention, acceptance and inclusion.
The universe exists through inner connectedness and community. We yearn to experience a deeper connection and intimacy with Source, ourselves and others—it's where we come from—our human nature within our divine nature.
So out of love, reach out and connect – touch someone. This promotes a happy, healthy life and friendly planet.  Namaste

Are you struggling loneliness and self-love? Are you struggling with grief from lost of a loving relationship? Help is just a phone call or email away. Please contact David Schroeder if you would like assistance with your acceptance and change issues and how to work through them. David offers life transition and spiritual growth counseling and coaching in-person, by phone or Skype. Visit his website at transitionpathways.com. Asking for help is not a sign of weakness. It's a sign of strength, a healthy and assertive way to help yourself and move through life transitions.
David Schroeder, LMSW, CPC from Grand Rapids, MI., is a licensed and spiritual social worker, certified life transition coach, and author of Just Be Love: Messages on the Spiritual and Human Journey. His practice, Transition Pathways helps people find healthy pathways to love, greater awareness and higher potential. David's book, Just Be Love: Messages on the Spiritual and Human Journeyis available for purchase through the publisher: Global Summit House email: infoglobalsummithouse.com and Amazon.com. If you would like an autograph copy of his book, contact David by email: humor311@sbcglobal.net
References:
Brigham Young University. Medical Research: Strong Relationships with Friends/Family Decreases Risk of Death. www.pr.com/press-release/251477. 2010.
Holmes, Leonard. Loneliness Impairs the Immune System. www.mentalhealth.about.com/od/research/a/lonely/flu.htm. 2005.