Do you ever wonder why you have drama in your life?  The answer to this question may relate to two factors:
1. You were born into a family.
2. The nature of life, is experiences. And many of our experiences revolve around interactions and relationships with people, especially family. Within these experiences, we develop core beliefs about ourselves, about relationship and life in general.
For your life experiences, especially in childhood, begin to shape and create your belief system and behavior patterns. We learn to take on a particular role in what's commonly called the "Drama Triangle."
The concept and dynamic of the "Drama Triangle" was first conceived by Dr. Stephen Karpman https://www.karpmandramatriangle.com/ in the 1960's as a social model. Karpman's triangle has been adapted for use in structural analysis, which defines roles people take on during conflict situations; also how it can become our go-to defense and protection mode in time of stress, change (uncertainty) or conflict. In recent years, Lynne Forrest https://www.lynneforrest.com/ has done much research and work with the drama triangle and she has some excellent information on this topic and its dynamics.
The 3 roles or faces in the triangle are the: Victim, Rescuer and Persecutor.  A person has one default or go-to role, but participants can and do switch roles depending on their perceptions and what gets triggered in them, while experiencing situations and interactions. As we experience life, it's common that we all have played these roles from time to time.
Some people are so use to drama in their life, they view this as normal and a way of life, because they experienced this from early on in life. For some, if there isn't drama going on in their life, they unconsciously will create conflict, so as to have drama, i.e. a sense of "normal" in their life.
Some who struggle with depression, will create a repeated pattern or cycle of depression to conflict/drama and back to depression. A person who struggles with chronic depression or victim energy; the conflict and drama part of the cycle moves that depressive energy perhaps into persecutor or fighter energy, which makes the person feel more alive for a time, until they fall back into the depressive part of the pattern.
Below, I offer a brief description, the mindsets and behaviors of the 3 roles in the triangle dynamic. I also offer some insight as to what's needed to move oneself out of a particular role in the triangle. Included in the middle of this blog is a diagram of the drama triangle and the transformation to empowerment i.e. ways to step out of the particular drama roles.
The Victim: The victim is the central figure in the drama triangle, by their actions and reactions to stress, change or conflict. Their stance is: "Why me", "Poor me", and "I hate myself." Behaviors: They are very needy, feeling and belief of helpless, hopeless, fearful, negativity, worry, complain, low self-esteem, and focus on self. They are very self-absorbed, yet have little to no awareness of this. They often feel rejected and/or abandoned. Yet, they have abandoned themselves, by way of not taking stock in themselves, not believing in themselves and their struggle with doing for themselves.
Victims often emotionally and physically drain others around them by their neediness and negativity. They have little to no physical or emotional energy or motivation. This creates the need for others to do for them, because they feel and believe they can't do for themselves. Victims, use guilt and the projection of helplessness to manipulate others, especially a" rescuer" into doing for them. The victim needs a rescuer to come to their aid. So they will attract rescuer energy through their interactions and relationships.
The Rescuer: The rescuer's stance and line is: "Let me help you" – "I can do this for you."  The rescuer is the helper, and becomes the enabler in doing for others at the expense of themselves. Rescuer behaviors: needy, avoiding of self, focus on others, high energy. Rescuers have a strong need to be needed. If they are not helping others they feel guilty or shame. Rescuer thinking and behaviors usually comes about due to past experiences where they felt helpless or inadequate to assist someone.
To compensate, for this feeling of inadequacy and believing, "I should have done something or more." They now make it their mindset and mission to "save the world." and live to assist others in all ways and forms. They live a rapid pace in thinking, speech and behavior. The rescuer actually takes on this role as a way to avoid facing and dealing with their own struggles and problems. To protect their low self-esteem and insecurities their way of building themselves up is by constantly helping and doing for others.
Many people go into helping professions, such health care, teaching, customer service, entertainment,  as a way to avoid looking and dealing with their own struggles and pain.
The rescuer needs the victim to do for them, so they will often attract victim energy through their interactions and relationships. This gives the rescuer the perception of being of service, being needed. Rescuers often project a sense of entitlement to help others and speak of their sacrifice in order to help/save others. Due to their strong need to avoid themselves and conviction to assist others, they can become the "Martyr" as they sacrifice for others.
The Persecutor: (a .k. a. Fighter or Bully) Stance and mindset is: "I need to win."  "It's your fault." "I hate you." The Persecutor is angry controlling, critical, blaming, rigid, oppressive, and authoritative, feels entitled and needs to feel superior. The Persecutor struggles with taking responsibility for the way they hurt others. In their mind they feel justified, because they believe others deserve to be hurt, because they themselves are hurting. They often have past wounds of betrayal and injustice. Since the Persecutor was hurt in the past, they see a need to protect themselves in aggressive and demeaning ways. They view the world as a hostile and dangerous place. In order to survive, they need to be the aggressor and have power-over others.
The Persecutor needs the victim in order to have the power-over feeling and someone to blame. The Persecutor is also hiding their own insecurities and low self-worth. Their way of building themselves up is by tearing others down, especially emotionally, by put downs, sarcasm, etc.
How the Drama Unfolds
Consider, most of humanity is either in the victim or fighter energy and consciousness. As humans, with an ego, we struggle with taking responsibility for how we've learn to be in the world. We play the "Blame game." Or we take on too much responsibility, owning more than our share.This is playing the "Shame game." Shame and blame are the drivers of drama triangles dynamic.
Initially, a drama triangle unfolds when one person takes on the role of a victim and another person takes on the role of persecutor. The victim then feels the need to enlist other people into the conflict. This need invites a rescuer to enter the situation. These enrolled players take on roles of their own that are not fixed, and therefore various scenarios can occur. For example, as a situation unfolds into conflict, the victim might turn on the rescuer, the rescuer then switches to persecuting and the drama is in full swing.
From Victim
In reality, each role or face in the triangle: the persecutor, rescuer, and the victim, are all victims, just with different styles and ways of expression. Each role is acting out in selfish and entitled ways to get their own needs meant and reinforce their belief system. Each role with their mindset and behaviors in the long run, not only hurts or drains others; more importantly, they hurt themselves. Additionally, the role players, each have their own struggles and difficulty, with effectively coping with stress/change, effectively problem-solving and having healthy interactions and fulfilling relationships.
Each person playing the different roles struggles with guilt, yet on a deeper level each role actually struggles with shame. Although at first they wouldn't admit this. You might be asking: What's the difference between shame and guilt? In simple terms, guilt is what I've done or haven't done. Shame is who I believe I am. Shame is much more paralyzing and in the energy of shame we need to protect ourselves more. Many say its guilt they are feeling when it's really shame, because of who they believe and thus become in the experience, the emotions and beliefs they generate from the situation.
This diagram below, shows the 3 faces of victim-hood. The Victim is consumed and defined by their wounds turned to pain, becoming helpless and hopeless. The rescuer is the shadow mother – the caretaker, doesn't want others to feel or be in pain. Rescuer seeks to fix the problem/pain. Which really is about avoiding their own pain and hardship. No growth come from this.  The persecutor is the shadow father energy, which needs to get even, to inflect pain, through anger and aggression.
The bottom part of the diagram is the way to transformation and empowerment. Each person chooses to take on a role that is more empowering both for themselves and others in the conflict or changing life experience.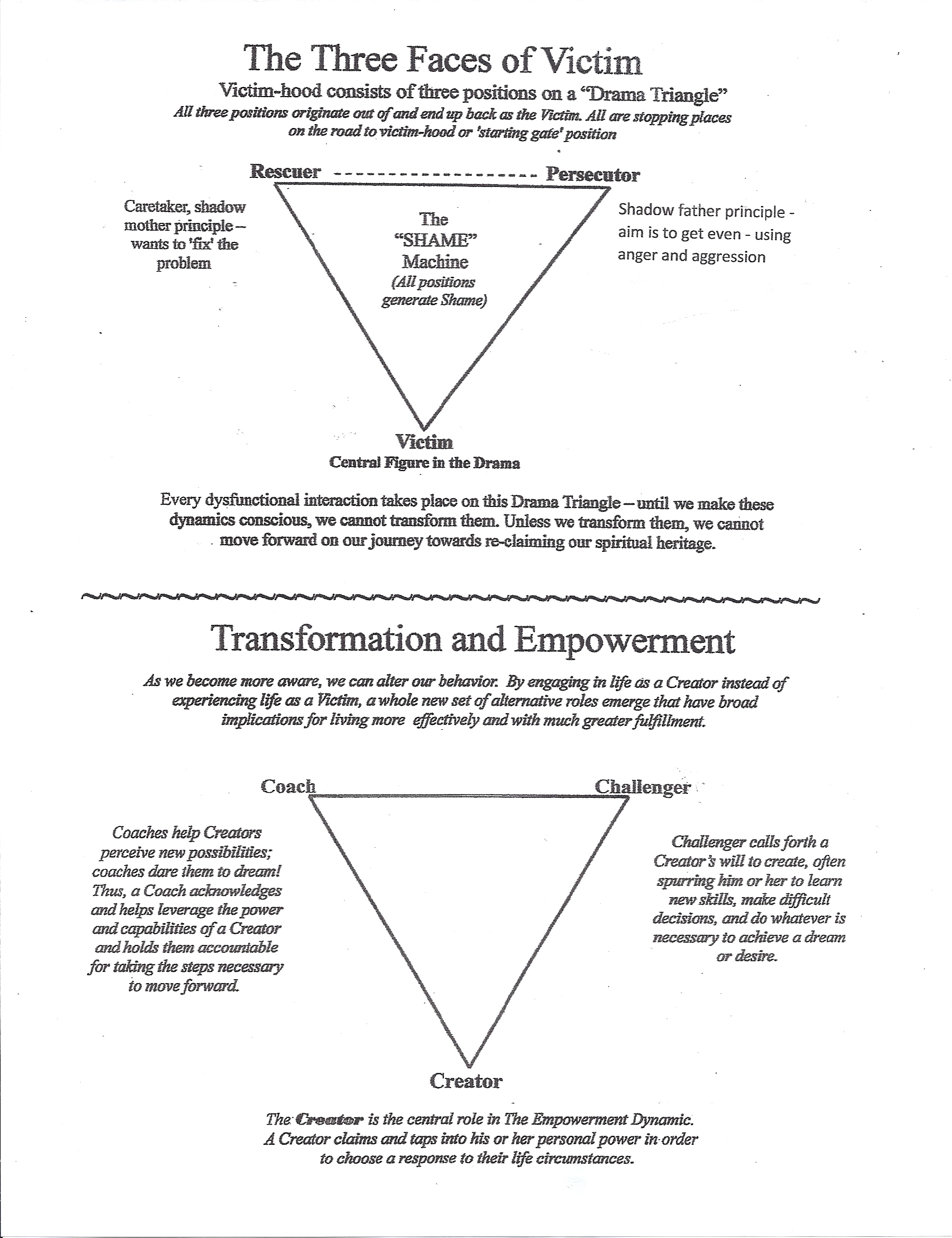 The Transformation to Empowerment
Transformation happens, when each person openly acknowledges and admits to themselves and to someone else, their role in the drama triangle. With this acknowledgement, we begin to move toward acceptance and from this acceptance we begin to move forward. We begin to take responsibility for how we've shown up in life. This creates a sense of inner relief and creates the opportunity for change and transformation to happen.
Move from Victim energy to Creator energy:
 Person realizes the pain of being helpless and hopeless (victim) is greater than doing for themselves. The creator, now chooses to be the creator of their life, rather than a victim in their life. They take responsibility for how they've learned to show up in life, and choose to embrace a "can do" mindset and attitude. Creators, seek to reclaim their inner power and confidence through reconciling the wounds and negative self-beliefs of their past. Choosing now to not be a victim of their past, rather to learn from their past and no longer be defined by it. Creators, choose to live their true potential in the now. They recuse themselves and reclaim, the love, innocence and goodness they are.
In pushing into and engaging in their low self-worth and sense of powerlessness, creators, move from hopeless to hopeful, from powerless to empowerment. They understand now, they are the creator of their experiences and responsible for their own misery or happiness.
Move from Rescuer energy to Coach energy:
Person realizes in avoiding their own struggles and pain, they are creating more pain for themselves. They can openly see and admit that helping others, has been about the avoidance of self. Rescuers, come from fear, often feeling inadequate.  All this shows the rescuer,  how much they don't love themselves.
The role of coach, plants seeds of possibilities for others, without needing to rescue or fix others. They realize the importance of rescuing themselves from the denial and avoidance of their own struggles and inner wounds. As the coach, they begin to build their self-worth more from the inside-out, rather than just outside-in. The coach, understands that taking care of the self is not selfish, it's actually an expression and act of self-love. This is a fundamental way of helping others. Love your neighbor, as you love yourself. What you do "to" and "with" yourself, you do to the relationship you have with others. When we have our own inner house in order, we can more effectively be there for others. Our self-worth and happiness is not dependent on others. Here again, it's about changing from the inside-out.
Move from Persecutor energy to Challenger energy:
This person has reconciled their inner desire to control and demean others. The persecutor to challenger, sees how they have been hurting others. Because, they themselves have been hurting deep inside. They take responsibility for their wounds, rather than making others responsible for this. Confronting and challenging themselves  to be a better, more loving version to themselves.  In the words of a greater master and teacher. The Persecutor to challenger, now acknowledges and accepts the log in their own eye, as they were before condemning the stick in their neighbor's eye.
The Challenger, more confidently walks their talk,  gains respect  (rather than demands respect)  from others by leading by example. They move from the position of needing to be superior as way of hiding their insecurities to being open and authentic with others. Being a challenger, one is more comfortable with vulnerability and how this leads to greater trust and connection with others. They now challenge, rather condemn others to be a better version of themselves by speaking their truth with words of encouragement and peace. Modeling the way, rather than condemning the way.
In closing, understanding and reconciling our core negative beliefs about ourselves is crucial. Changing the story or narrative we've created about ourselves, in relation to our life experiences, is also important. This is the work towards knowing, healing and mastering the self. Furthermore, when we are aware of (know) how the players in the drama are created through our beliefs about ourselves within life experiences; especially those in childhood. This creates the opportunity to realize how we get caught up in drama. From this awareness, we create the willingness to transform ourselves to more healthy ways of being with conflict and change.
As expressed in the Transformation to Empowerment part of this blog. This transformation, allows us to effectively avoid or remove ourselves sooner from much of the potential drama in our life.
                 To know the self, is to empower and transform the self.
Need coaching or counseling with your relationship struggles, I'm a phone call or email away, to assist you. David Schroeder, LMSW, CPC from Grand Rapids, MI., is a licensed and spiritual social worker, certified life transition coach, and author of Just Be Love: Messages on the Spiritual and Human Journey. His practice, Transition Pathways helps people find healthy pathways to love, greater awareness and higher potential. Visit David's website: transitionpathways.com David's book, Just Be Love is available for purchase through the publisher: Global Summit House email: infoglobalsummithouse.com and Amazon.com. If you would like an autograph copy of his book, contact David by email: humor311@sbcglobal.net