There are several differences between men and women, some are obvious, some are subtle. Realizing, accepting and working with this particular gender difference can make a positive difference in the way you relate to each other.
Conflict and frustration in relationships often occurs simply because, we don't understand why our partner thinks and acts a certain way. When it comes to thoughts, feelings and emotions there will typically be a difference in the way  men or women go about relating with you.
This gender difference impacts our ways of communicating, problem-solving and over-all interactions with each other. It stems from the way we perceive and relate to our thoughts, feelings and emotions; and the need we have with our partner in relation to our thoughts, feelings and emotions.
Men and women have thoughts, feelings and emotions; and these are important and not to be denied or discounted. Having acknowledged this, due to biological factors and social conditioning, one gender is typically more connected and concerned with thoughts, while the other gender is more connected and concerned with feelings and emotions.  Here's the basic difference:
In general, the feminine aspect, typically (women) is more likely concerned with having their Feelings and Emotions respected.  The masculine aspect, (men) is likely more interested in having their Thoughts respected.
It should be noted, that some women may have more of the masculine aspect; and have a stronger desire for their thoughts to be respect. Some men might have more of the feminine aspect; and have a stronger need for their feelings and emotions to be respected.
Women in general, come from their right brain, the intuitive and emotional side. They also come more from their heart center. So they are more concerned and value their relationships. Because of this, women in life and in their relationships will more naturally relate to and from their feelings and emotions.
On the other hand, most men are in their logic and thinking state, come from their left brain. So they relate to thoughts, in logic oriented ways of being in life and in their relationships. As a way of connecting, men relate more to their occupation and status (position).
For example: In social settings, women will typically, talk more about family and friends, social concerns (relationships/heart). Men generally, will converse more about their occupation, sports, objects i.e. cars, boats, women, money (logic/head).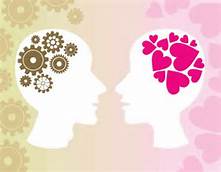 It's not about who is right or wrong, with this way of being and relating. It is the way the genders are wired and conditioned to be in the world, and relate to each other.
It's not about needing the other person to think, feel and be how I am. This is control and creates a love relationship that is conditional.
It's about seeking to understand the other person as best I can, learning to accept this difference. Being willing to learn how best to relate and interact with this difference. This is unconditional love.
A part of you, wants your partner or friend to be like you are. However, life is about contrast, in order to know one, we need to experience its opposite. That's why we have male and female, light and dark, sorrow and joy.  Neither is really right or wrong it just is "the nature of things."
It's about accepting and honoring our differences, and working with them.
Gentlemen, out of love seek to understand, step out of your comfort zone. Take time and effort to connect more with your partner's feelings and her deeper emotions, even if it doesn't seem natural or logical to you. Connect your heart to her heart.
Ladies, out of love, get into your man's world, honor his thoughts and work at seeing his logic as best you can, even if it doesn't make sense or seem natural to you.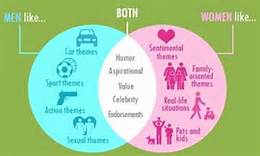 Don't wait for your partner to make the first move. Authentic love, asks us to take the initiative, to seek to understand the other. If you both work at seeking to understand the other, you find the common ground within the differences.
Unconditional Love seeks the common ground, to accept, honor, and learn to interact within the differences, and enhance the similarities.
What are your thoughts or feelings on these gender differences?  Feel free to comment below.
Are you struggling with understanding and working gender differences? David Schroeder, can help you reclaim the love and goodness you are. If you would like assistance with reclaiming this love and goodness David is here to assist you with his life transition coaching and counseling sessions. He offers in-person, by phone or Skype sessions. Visit his website at transitionpathways.com.  Asking for help is not a sign of weakness. It's a sign of strength, a healthy and assertive way to help yourself and love yourself again.
David Schroeder, LMSW, CPC from Grand Rapids, MI., is a licensed social worker, certified life coach, and author of Just Be Love: Messages on the Spiritual and Human Journey. His practice, Transition Pathways helps people find healthy pathways to love, greater awareness and higher potential. David's book, Just Be Love is available for purchase through the publisher: Global Summit House email: infoglobalsummithouse.com and Amazon.com. If you would like an autograph copy of his book, contact David by email: humor311@sbcglobal.net