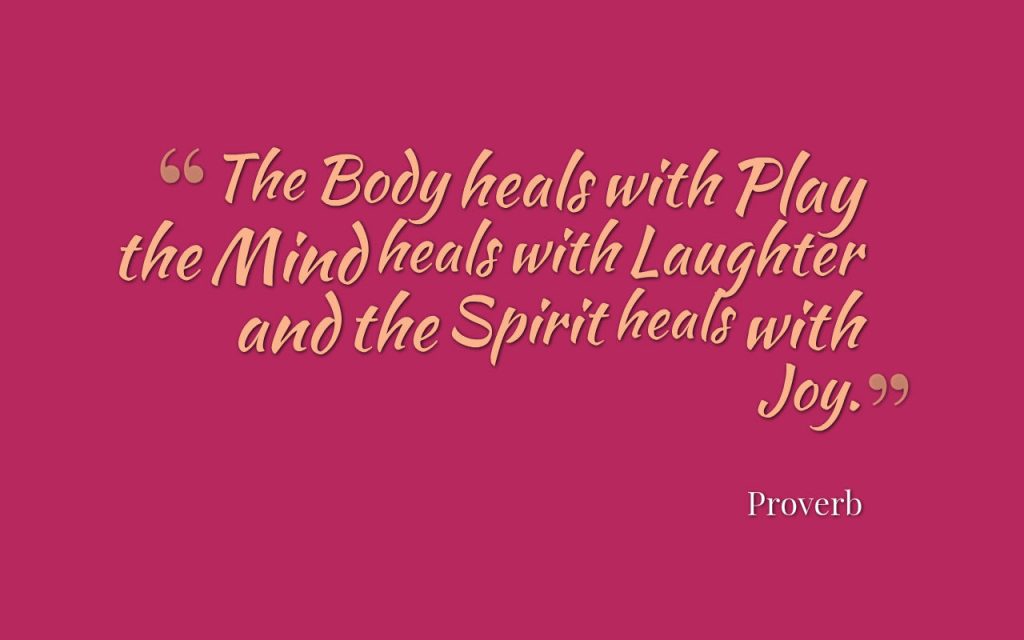 Over the years, working with people with emotional struggles and resistance to life changes; I've come to appreciate, two of the biggest barriers to happiness are: fear of foolishness & taking oneself too seriously.
Life is a serious adventure, yet the key is to take one self lightly within it.
When you were growing up, did you ever find something funny and you started to giggle or laugh. Than a parent, grandparent, or a teacher said… Don't laugh, that's not funny? Yet, deep down inside you, your funny bone was tickled.
Many people learned growing up, that in order to be mature, you have to be serious. That if you are having fun, you are not being good and you are not doing your job.  We get conditioned to shut down our imagination and our childlike self.
Childlike vs. Childish:
We learned to shut down the part of us that is unconditional, accepting, spontaneous, playful and curious. Creative, patient, flexible, fearless, adventurous and joyful. The result, we become more fearful, doubtful, more controlling and rigid in mind and body.
We give up the childlike innocence and wonder, and as a result, we develop more childish behaviors being: conditional, inpatient, and controlling, demanding, whinny, selfish and unhappy. Or maybe we've become timid, doubtful, fearful, and anxious to take risk and step out of our comfort zone.
We learned being vulnerable is risky and painful. You will be judged as wrong and not enough. So you take both life and yourself too seriously, creating increase stress, wear and tear on your body, mind and spirit.
Life is already full of stress, with our fast paced society, being full of expectations, judgment, the need for instant gratification, the overloaded of information, and obsession/addiction to technology and social media.
Research says that 90% of office visits to primary care doctors today are for stress related problems. Some researcher's concluded that due our fast pace and information society, that we experience more stress (fight or flight response in different ways) in one year, than our ancestors did in an entire lifetime.
Many people hold their stress in by avoiding, resisting or being critical of self and/or others. This creates toxins in the body and creates distortions in thinking, belief and behaviors, which leads to dis-ease in body and/or mind.
There are only two times during the day that I'm under stress… day and night. Yes, the stress and pressures of life are increasing and getting more intense. The key is too not lose ourselves in it, and not take ourselves too seriously within it.
The most frequently asked question on earth is. "Where's the bathroom?" The   most disappointing question we ask when we pass on to the afterlife is … "Why did I take life and myself so seriously?"
Do you know why angles can fly?  They take themselves lightly.
The word humor means to be fluid, to flow.
A child laughs around 300 times a day; many adults laugh only a handful of times a day.
How laughter helps the Mind – Body:
If you laugh 100 times a day, that's equal to 10 minutes on a rowing machine. Laughter is a wonderful physical and aerobic workout.
When you frown you use 62 muscles just in your face alone. When you smile and laugh you're only using  24 facial muscles. Point is, it takes more energy and effort to be unhappy than happy.
Laughter releases a brain chemical called endorphin's, which is our natural feel good chemical.
We have cells in our body called T-Cells, that is connected to our immune system. One of the ways this cell is ignited is by laughter, so laughter and joy helps boost our immune system.
In terms of relaxing and re-framing thoughts, a 10 minute laugh is equal to 30 minutes of meditation.
Laughter is a form of mindfulness, it brings you to the present moment. Life and love are experienced in the present.
We need at least 12 laughs and 5 hugs daily to stay healthy.
Both laughter and crying are innate healing tools, and forms of healthy emotional expression and release through the physical body. We laugh so hard we start to cry, and we cry so hard we begin to laugh. One emotion naturally leads to the other.
Think of laughter as your internal Tranquilizer with no side effects.
In our humanness, we have embarrassing moments; we do foolish things, make mistakes and wrong decisions. The key is to do them with enthusiasm. I believe in the positive power of insanity, it's the only thing that keeps me sane. There are no mistakes… only opportunities for learning and growth.
We all have embarrassing moments, and when you share your embarrassing moment with others, many can often relate to having a similar embarrassing experience as well. You are really not alone in that embarrassment; it just seemed that way at the time.
The loneliness factor is becoming a major illness throughout the world. We can communicate and connect with people easier and faster than ever; yet, because some people can be so judgmental, critical and demanding, we avoid interactions.
Many of us become more isolated to protect or insulate ourselves from the judgment. Others can become verbally or physically aggressive, as a way to protect and defend themselves. Either extreme on this continuum leads to the perception of being judged misunderstood, so we become lonely and unhappy.
Laughter is a great way to connect with people. For humor and laughter, helps break down barriers and builds rapport. Laughter is contagious; when we start laughing people around us often start laughing with us.
It's not about using humor and laughter at the expense of someone. The true and divine intent of humor and laughter is to relax us, connect us and help us relate to each other. It's a way to honor the similarities of each other, and accept our differences.
Humor and laughter helps us put life situations into perspective, to view difficult circumstances in a different light and way. When you change your thoughts and perspective, you change your world.
Dr. Bruce Lipton said: "The moment you change your perception, is the moment you change the chemistry in your body."
People often ask me. Does the divine creator have a sense of humor? I say, "oh yes, it loves to laugh and play, the divine has a wondrous playground that the earth is a part of, it's called the universe."
In scripture Jesus said: if you want to enter the kingdom be as a child.
What's love and laughter got to do with healing?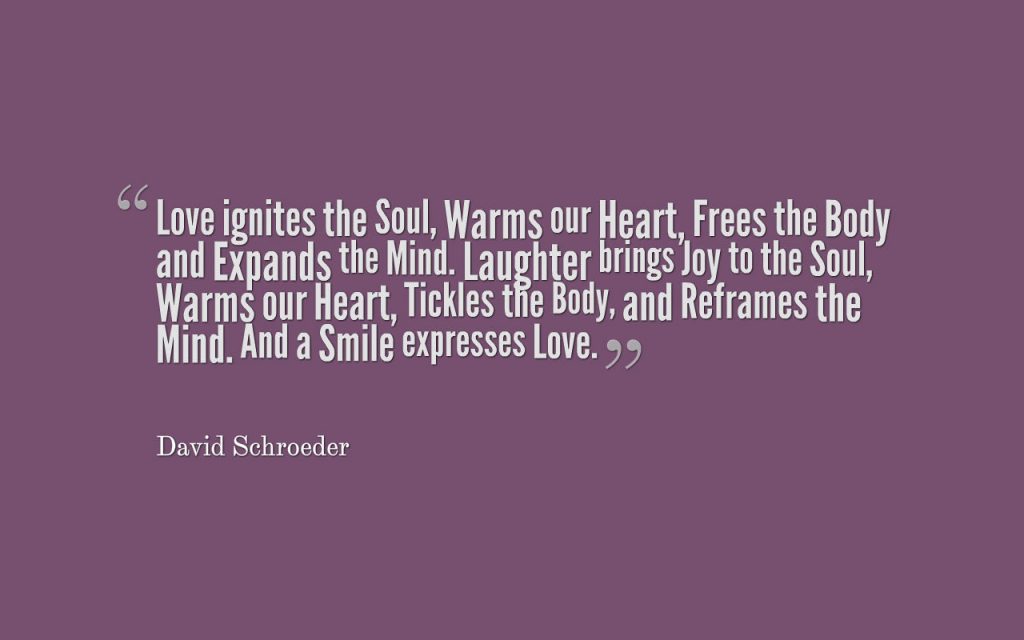 Laughter and being childlike are expressions of love to the self and others. They promote constructive problem-solving and positive ways toward reconciliation and healing. Being childlike, takes you out of the resentment or victim role; moving you toward a healthier and joyful way of living and being.
Feel free to leave a comment below.
David Schroeder, LMSW, CPC from Grand Rapids, MI., is a licensed social worker, certified life coach, and author of Just Be Love: Messages on the Spiritual and Human Journey. My practice, Transition Pathways helps people find healthy pathways to love, greater awareness and higher potential. My book Just Be Love is available for purchase through the publisher: Global Summit House email: infoglobalsummithouse.com and Amazon.com. If you would like an autograph copy of his book, contact David by email: humor311@sbcglobal.net