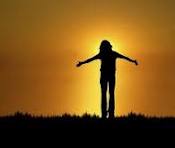 Forgiveness is one of the most powerful healing tools we have for reconciling and moving beyond from the hurts and wounds of life. It's also a profound act of love and acceptance, especially self-love. For when we forgive another person or ourselves for a wrong doing, we set ourselves free and we benefit the most from the forgiveness. Despite the healing and liberating power of forgiveness; for many of us, the act of forgiveness is one of the most resisted and thus difficult acts we can offer to others or ourselves.
I've come to appreciate the only reason we have forgiveness, is because we make something matter. When we make something matter, we create an intense emotional charge within us. So an unjust "cause" done to us creates a strong "effect", often having lasting emotional, physical, social and spiritual "effects" on us. The act of forgiveness helps to lower the emotional charge and intensity within us and helps liberate us from the painful experience.
Forgiveness is not about excusing the offense or saying/believing it didn't happen. Forgiveness is not really about the offender, it's about the one who is affected by the cause, the one holding on to the anger, resentment, grief. Being trapped in resentment, anger, depression, grief; waiting for the offender to take responsibility and ownership of the hurt toward us, is giving away our own power, inner peace and freedom. The more we can take charge of our own healing without an expectation that the offender needs to say something to us, or do something for us, the more empowered and liberated we can be. The quote by Lewis Smedes speaks volumes about the importance of forgiveness: "To forgive is to set the prisoner free and to discover that that prisoner was you."
Forgiveness is an act of love, and love is freedom. To forgive is to be free and a way to love. Forgiveness means to go beyond our wounded ego self, in order to free the self. The willingness to go beyond the wounded self is to rise as love, to let go of what no longer serves us, so in time we can be restored to wholeness.
Perhaps you're not willing and/or ready to forgive someone. That's okay and where you are currently at. Forgiveness is not something to be forced upon or to do out of guilt, if you are not ready. One should be open, willing and accepting in order to truly forgive. Human nature is such that, we are all at different stages of willingness and readiness. If this be the case, at least consider the importance of reconciling within yourself how hanging on to negative perceptions, create toxic emotions of anger and resentment leading to paralyzing beliefs and resulting self-defeating behaviors. How all this can affect many areas of your life in ways that are not helpful to you.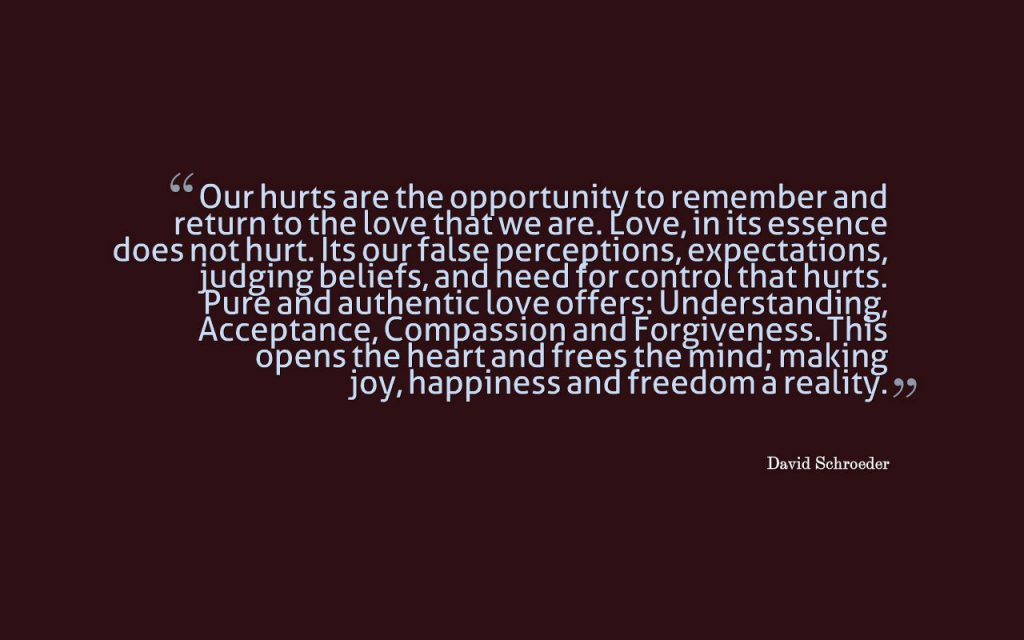 I offer you the possibility and opportunity of considering a process I call "inner reconciliation." Inner reconciliation is a way of reorienting our perceptions and beliefs about the experience and ourselves within the fact that our life has been disrupted either mildly or severely by a wrongful act toward us. Our ego defenses and beliefs often says: "They wronged us/hurt us and so let's stay mad, bitter resentful, etc, that way we have a sense of power and control; since we didn't have power and control during the offending experience." Our anger, resentment and such, become a lens through which we see ourselves and the wrong doing. Its destructive thinking, beliefs and behaviors we create as a way to keep feeding our hurt and pain, in order to keep it alive and justify it. This is only hurting ourselves now, within the fact that we were hurt by someone in the past. This is unfortunately how victim energy and behaviors begin to take root, and if not tamed and reconciled can become our way of life.
Like grief, forgiveness is a process and takes time, willingness and commitment toward moving beyond what has hurt us and seemed unfair. When we can change our perception and belief about the experience, we begin to change our world and the way we interact in it. The process of forgiveness, like moving through any change we experience in our life, is an inside job. The job and empowerment of moving through what I call the 4 R's: Recognize: who and how I am being with my current perceptions, thoughts, beliefs, feelings/emotions and behaviors. We can't change or move beyond something unless we acknowledge it and tell the true to ourselves about ourselves. Reconcile: The willingness to resolve the inner pain and torment. Release: To let go of what no longer serves and benefits us. This offers space for healthier and more empowering possibilities to enter into your reality. Reframe: Is to now choose to see the painful experience, yourself and the offender, in a different and more constructive way. To see the glass more full than empty. This creates the willingness and courage to construct a more positive and affirming belief about yourself, within the unfortunate experience.
In my own life, I've had many opportunities to practice forgiveness in what seemed at first, an unjust cause. I offer two experiences. One, was my wife of twelve years wanting a divorce, at the time it didn't seem fair and not my choice. I was hurt, angry and frustrated. In time, I came to a place accepting her choice and let go of making her responsible for my feelings and behaviors within the stress and change. She made her choice out of self-love and what was best for her. I also had a choice of how I would move through it and who I wanted to be within a difficult situation. The choice of hanging on to anger, sadness and resentment and such, would only take me down a self-destructive and unfulfilling path. Through accepting the things I could not change, forgiving her and myself, and empowering myself to change what I could, which was only myself, this allowed me to change my situation from the inside out and move on in my life, and be a better version of myself and a father. Years later my ex-wife and I are friends and get along well on behalf of our sons and grand children.
Several years ago, while driving my car I was hit head on, by a driver who was attempting to pass the car in front of him. The driver of this car was ticketed for failure to yield the right of way and his insurance company settled with me. Several months after the settlement, this man decided to sue me for mental harm. It was amazing that it ended up in a jury trial. I was in disbelief and just dumbfounded how I could be setting in a courtroom on trial for something I didn't cause. Fear, anger, and uncertainty filled my days waiting for the court appearance and the verdict. I was found not guilty. A part of me with its voice inside me, understandably wanted to turn around and sue this guy, and many people suggested this. But another voice inside said, let it go, just let him be, he's an old unhappy man, no need to put more fuel in the fire. I had compassion for this man and his struggle with needing revenge and justice, while not acknowledging and accepting he was in the wrong. He taught me, you never win a war – with war. So I forgave the error. In his need to get back at me, he was unaware of what his anger and resentment was doing to himself. I was at peace and moving on with life.
This man was after all, another teacher and opportunity for me through this difficult life experience. Through his actions, he was offering me the opportunity of learning and practicing the gift of moving beyond the injustice and my wounded self, toward acceptance, compassion and forgiveness.
You see, when you realize we have choices within difficult, painful and unjust experiences to see the offender as the threat and the enemy or the teacher and the opportunity. Depending on how you view it and think about it, is how you will experience it. What we think about we bring about.  When we can accept and understand that our experiences are really our teachers and opportunities to practice acts such as: acceptance, compassion and forgiveness, we take the high road with love, creating the willingness and commitment to move beyond the hurt, and learn the lesson for soul growth and self-mastery. Is this an easy task to get too? No. Is forgiveness a liberating and life changing act to engage in, that offers higher meaning? Yes, for sure. Life isn't meant to be easy, it's meant to be meaningful.
Questions to consider: Why might you struggle with forgiveness?  What would be the benefits of forgiveness for you?  How does acceptance and willingness aid the forgiveness process?  Feel free to leave a comment, share your answers to above questions, and/or share your experience with forgiveness.
David Schroeder, LMSW, CPC from Grand Rapids, MI., is a licensed social worker, certified life coach, and author of Just Be Love: Messages on the Spiritual and Human Journey. My practice, Transition Pathways helps people find healthy pathways to love, greater awareness and higher potential.  My book Just Be Love is available for purchase through the publisher: Global Summit House email: infoglobalsummithouse.com and Amazon.com. If you would like an autograph copy of his book, contact David by email: humor311@sbcglobal.net