Many people ask: How do I Be Love? A part of us makes the concept and practice of love more complicated than it intends and needs to be.  Love can be found and can be expressed in simple yet, powerful and meaningful ways. Smiling at a passerby, listening to a friend who's stressed, offering a hug and saying thank you, petting a cat or dog; these are powerful expressions of love and caring.  In my book, Just Be Love I offer several chapters of where love can be found, yet it's often not recognized or appreciated. Consider how nature and the universe displays infinite love, when we take a walk in the woods, sit by a stream, honor the rising sun, reflect with the setting sun, or stand, looking up at the night sky in awe at the parade of stars, or watch a gentle snow fall or rain. These are simple ways of Being, experiencing and living Love. They are expressions of love through the divine, and these examples are ways that ground us to the present moment. Life and love are found and experienced in the moment.
Love is Unconditional Giving. The act of giving, of our time, our talents, possessions, a listening ear, or a helpful hand; are ways of expressing and being love. To freely give without consideration of a loss is love without measure. St. Francis of Assisi said: "The greatest measure of love is love without measure." Being in thoughts and expression of appreciation and gratitude is one of the highest forms of love and giving, and is a pathway to our own inner happiness and peace.
Love is Unconditional Receiving. Many of us can give freely, and it's a way we feel loved, accepted and worthy. However, we might struggle, even avoid, receiving openly and freely; due to our inner wounded belief of feeling undeserving and unworthy. The struggle to freely receive without offering something in return is often the result of being made to feel guilt or shame, from past experiences. To freely and openly Receive, is to Give.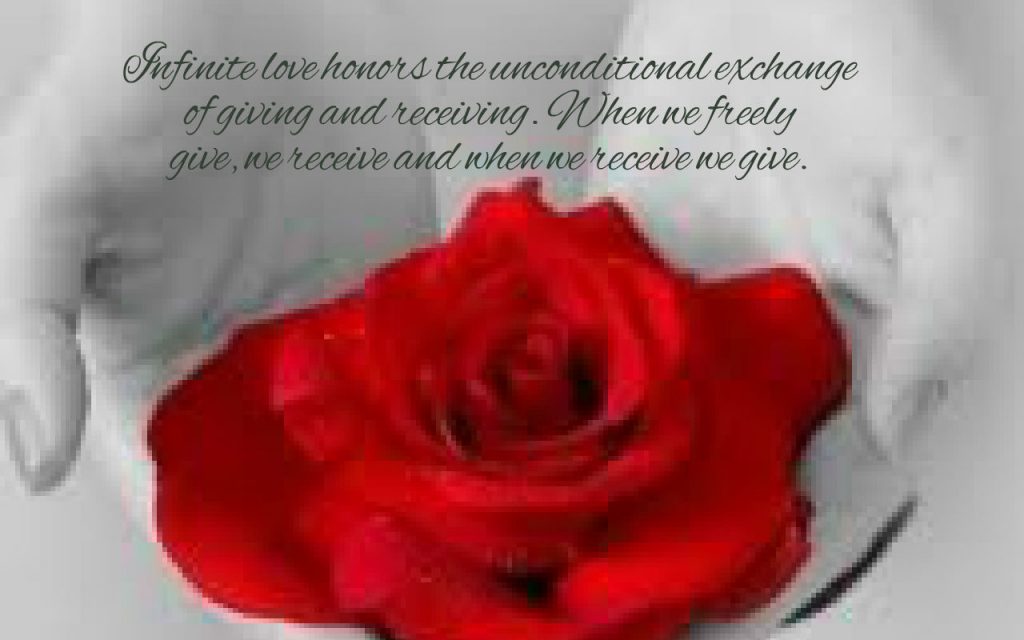 Being Love Calls us to Our Imagination, which is the soul/spirit of us, to dare to dream and live the childlike qualities and wonders within us. We are called to embrace and be love, for love is who we are. Love is the innocence of our being. There is sacred wisdom and strength in just Being.
Love is Being Our True Self. To be our true and authentic self, is to let go of outside opinions and judgment, of whom and how we should be. Judgment is the withholding of love, and the way of the ego, critical self.  Love is meant to be including and offer freedom. However, an aspect of love is about setting healthy boundaries with others as a way to prevent being taken advantage of and, is an act of care, concern and value toward the self.  It's healthy to love myself enough to know when a relationship/friendship is hurting me, more than serving me. So out of love it's important to set myself and the other person free from what's no longer healthy and constructive. When I do what's best for me out of love, I do what's best for others. Accepting the other person, might not understand your decision and actions at the time.
When We Can Be Accepting, offering compassion and forgiveness to others and ourselves, we are being in the thoughts, energy and actions of unconditional love. Love should be one of our highest guiding principles in life. Love is not a condition to be obtained; it's a certainty to surrender to. Love calls us to let go of our human ego's will and surrender to the higher and wiser will of the infinite.
Being Love Means, I seek to keep growing and expanding in my openness and willingness to freely love to love. It's important to keep learning and challenging myself, in order to be the best version of me. Being love invites the self to look for the good in others, the world and myself, and to view my experiences, especially the difficult ones, from the higher perspective.
Can You Just Be Love? After all love is all you really are.  Questions to consider: What are some ways you can Just Be Love?  What would cause you to be more fearful and resistance of loving and accepting someone for who they are?  What could you do for yourself to release this resistance?   What would be the benefits of this for you and your relationship with others?
Feel free to leave a comment.
David Schroeder, LMSW, CPC from Grand Rapids, MI., is a licensed social worker, certified life coach, and author of Just Be Love: Messages on the Spiritual and Human Journey. My practice, Transition Pathways helps people find healthy pathways to love, greater awareness and higher potential.  My book Just Be Love is available for purchase through the publisher: Global Summit House email: infoglobalsummithouse.com and Amazon.com. If you would like an autograph copy of his book, contact David by email: humor311@sbcglobal.net