It seems the need and search for love and acceptance dramatically impacts our sense of self-worth. Yes, we get hurt in the name of love and some people don't accept us for who we are. In this, we believe love can hurt. But that's not the truth. Its actually our expectations, judgment, need for control, our feeling of rejection, loneliness, and loss that hurts. These are the results of fear, our belief we are not enough, we are not lovable, which closes the heart and thus we diminish our sense of worth.
The feeling of unworthiness is most often the byproduct of growing up. Many of us have had unpleasant experiences throughout our life. Painful and traumatic experiences, especially in childhood, create lingering physical, emotional and spiritual scars in body, mind and spirit. Growing up, intently or unintentionally we get wounded in a variety of unloving ways. In my book, Just Be Love I mention the "five core wounds" of the human personality: Rejection, Abandonment, Betrayal, Injustice and Humiliation. We generally have one of the first three listed as a primary core wound and from this wound let's say: Abandonment, comes one form the last two, Injustice or Humiliation, say Injustice. So my core wounds would be Abandonment and Injustice, because they have the strongest emotional charge for me, when I think about my life from childhood to present. These wounds have negative self-beliefs attached to them such as: I'm not enough, I'm not deserving, I'm not lovable, I'm not worthy, etc. These beliefs, along with the perceptions and feelings that go with them often create self-defeating behaviors and outcomes in certain areas of our life.
Our core wounds are often unconscious, and they get triggered by present experiences and people. If the core wound is not resolved, we can experience similar feelings/emotions and beliefs in the present situations, like we did during a difficult/painful experience when we were younger. In other words, the present experience, reminds the unconscious little boy or girl in us of a similar childhood experience, and so we feel and thus act out the present situation in unconscious and often immature ways. This is part of the human condition and living an ego with shadow parts. The ego or lower self, being our internal defense mechanism and internal police officer, that serves and protects us. The shadow is what we repress or deny within ourselves, or project on to others. If all this is left unconscious and unresolved within our psyche, it has unchallenged power and influence in our life. That often leads to low motivation, limited potential, low self-esteem, a disconnect with the spirit within, troubled relationships and  unhappiness.
The following are 6 ways to improve self-worth. Be gentle, patient and determined in the practice of these tips. Realize as you work these tips, the lower/wounded side of you will resist these and other tips you may seek to incorporate. It will do its best to talk you out of reclaiming your worth. Because, there is a part of you that doesn't believe you are worthy, enough and lovable. If you give in to this part of you; you give away your power and sense of happiness, peace and contentment. The higher more loving part of you wants you to remember the love, worthiness and goodness you are. It's time isn't it? Out of love, give yourself permission, space and time to remember, and return to the love and value you are. The choice and opportunity is yours. If not now, when? The time is Now, love is in the now. Change and growth happens in the Now. Please say yes to loving yourself. What do you say? You can do it, and you so deserve to reclaim your worth and goodness.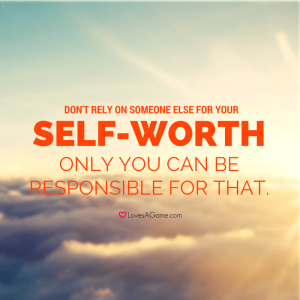 1. Important to Recognize: Become aware that you have diminished your self-worth, by the negative perceptions, thoughts and beliefs you hold about yourself. We can't change something until we are aware of it, and accept it. The first step to change is awareness and telling the truth to ourselves about ourselves, without shame or guilt. When we accept ourselves in this moment and how we've learned to be in life, we begin the process of changing it. This truth telling is an act of unconditional love and acceptance. The very thing we would like from others, we first should offer to ourselves. This is an act of self-love, showing concern and value to the self. This is changing from the inside-out, empowering ourselves, to be a better version of ourselves.
2. We are Always and in All Ways Love: Despite the difficult and painful life experiences, that may have seemed unloving and/or uncaring from others. It's important not to give up the love and goodness we truly are. This is part of what we are to learn from our life experiences, not to lose the love and goodness we are. No one outside of us really takes our sense of love and worth away, we decide to give it away, because someone hurt us.
3. Reconnect with Your Shadow and Wounded Parts: This is an expression of compassion to the self. It shows concern and value for the parts of you that feel betrayed, rejected or abandoned. The parts of you that believe they are unworthy, unloved, or enough. Acknowledge and affirm to them they are doing the best they know how to be, yet you desire now to reclaim their innocence, to show them a better, more loving way to be and live. Tell them the truth of your innocence, divinity and goodness. Treat yourself as you would treat others, and want others to treat you; this is your birthright and part of your purpose.
4. My Mirror: Practice daily, looking in the mirror without shame, guilt or embarrassment. See, acknowledge and honor your innocence, beauty, strength, resilience and gifts. The true reflection from the mirror sees and knows your innocence, strengths, beauty and goodness. When we judge who we see in the mirror, we are withholding love and reinforcing unworthiness. To acknowledge our innocence and gifts reflecting in the mirror is offering unconditional love and acceptance, reinforcing our worth. I have a moving chapter in my book: Just Be Love, entitled Love and the Mirror, that offers a story and poem of "My Mirror."
5. Commit to the Practice, of catching yourself falling into the gibes, belief and ways of your lower/wounded voice. Acknowledge the voice of the lower/wounded self, and say thank you for its opinion and how it's may seem self critical and judgmental. However, we desire to be in the energy of love and acceptance for the wounded self, yet not give in to him or her. In this, than make the loving and caring choice to turn the negative self-defeating thinking into positive, uplifting and empowering thoughts and actions. It's simply a matter of choice, and willingness to create a new habit within the mind. When you commit to yourself, you greatly reduce the emotions of the past to control your circumstances in the present. To say Yes to yourself, is saying Yes to Love.
Think of a situation when someone offers you something, but you really don't want or need what they offer. The polite and empowering response to this person, is to acknowledge and appreciate their offer, by saying: "Thank you." Then saying: "I am not in need of this offer." In other words you are politely saying: "Thanks, but no thanks." Practice the "Thank you" exercise to the lower self for expressing its opinion/perspective, yet say: "Thank you, but no thank you" to where it wants to take you with its thoughts and belief.  Share with the lower/wounded self, the more positive and affirming thoughts and belief you are choosing to hang with now and the benefits of this. Affirm, it's negative and self defeating thoughts and views no longer serve you, and you are now choosing more positive and uplifting thoughts, beliefs and ways. You desire to affirm and live the ultimate truth of yourself, not your manufactured false truth about yourself you created years ago. Invite the lower/wounded part of you to come along with your more uplifting and empowering thoughts and beliefs. Notice how much better you feel, when you make a more loving and affirming choice for yourself. Acknowledge the self-love and goodness of this choice.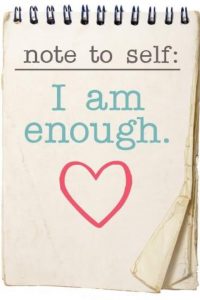 6. Use Affirmations Daily, which seek to reinforce the truth of you, such as: I am love, I am innocence, I am freely loving myself, I am goodness, I accept all parts of myself and love them unconditionally. I am worthy, I am whole, I am compassionate to myself. I choose to be my best friend. I am a lovable, capable and worthy human being. I am a perfect, capable, lovable, worthy and radiant spiritual being, having a human experience. I am learning to be a better version of myself, and this feels good ‒ I deserve this worthy and good feeling.
As you journey back to worthiness, allow yourself to seek out support through friends and if needed experts in mental health.  Seeking support and/or assistance is a sign of strength and expresses value to the self. Call upon your "I Can" spirit to assist you in reclaiming your worthiness. With a compassionate heart and willing mind, summon the courage to change and create a new more empowering direction for yourself; and more loving, accepting connection with all parts of you.  Just Be Love – For only Love is real, and Who you are!
David Schroeder, LMSW, CPC from Grand Rapids, MI., is a licensed social worker, certified life coach, and author of Just Be Love: Messages on the Spiritual and Human Journey. His practice, Transition Pathways helps people find healthy pathways to love, greater awareness and higher potential.  David's book Just Be Love, is available for purchase through the publisher: Global Summit House email: infoglobalsummithouse.com and Amazon.com. If you would like an autograph copy of his book, contact David by email: humor311@sbcglobal.net