Many people struggle with the question, Why am I here? Why am I having this experience? We struggle with seeing the higher perspective and meaning to our experiences, especially painful ones.
In my book Just Be Love, I talk about the soul in human form, being here to experience, to create, to remember love, to serve, and to expand in awareness. Love is the primary mode for our life journey. Our experiences ask us to: Understand, Accept, have Courage, Compassion, and to Forgive or Reconcile. These concepts are acts of love, promoting healing, inner peace, spiritual maturity and growth.
It seems the more we can come to Understand our life experiences from the higher perspective, the greater our ability to Accept the "what is" of life experiences, especially the difficult or painful ones. When we can accept, rather than expect, we have fewer disappointments. Acceptance connects us more deeply with the divine, puts us on the path to freedom, divine love is freedom. With acceptance, comes the Courage to change what we can, which is often just ourselves, i.e. our perspective, thoughts, belief, attitude, and behavior. To alter our life, we must alter the belief and attitude in our mind and open our heart.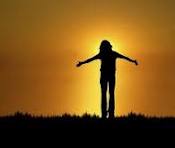 Acceptance is to embrace life and love. We can't change something in our life, unless we accept how life is in this moment. It helps us gain greater clarity of our life and how we are moving through it. Acceptance brings inner power and confidence back to us, to move forward in our journey. It opens our mind to entertain and create new possibilities beyond our created story and illusion, to more fully learn the intended lesson of the experience. This creates expanded awareness and growth in body, mind and spirit. Courage is an act of love, and the willingness to move your life forward from what you have accepted.Acceptance and Courage generates the willingness to step out of our comfort zone, in order to move through change with a greater degree of ease and grace.
To have Compassion, is to be present with the pain, without judging, blame or being defined by it. This is especially important with the self. Self-compassion softens the inner critic, and is an elevated path to higher learning, inner happiness and joy. Compassion creates space for new possibilities to come to be.
To Forgive or Reconcile the self or another for an error or feeling of injustice, is to move beyond the wounded self, and set the prisoner free- the prisoner being ourselves. The act of forgiveness helps us rise above the wrongdoing, and choose love and peace over guilt, judgment, grievance or resentment.
To Understand, Accept, have Courage, Compassion, and to Forgive, is to Serve and Remember Love. It is to punch a hole through our cloud of darkness and illusion, in order to illuminate the light and love of truth within our experiences, in order to discover the true and divine self, and Rise as Love, because Love is who we are.
 David Schroeder, LMSW, CPC from Grand Rapids, MI., is a licensed social worker, certified life coach, and author of "Just Be Love: Messages on the Spiritual and Human Journey." His practice, Transition Pathways helps people find healthy pathways to love, greater awareness and higher potential. Visit his website: transitionpathways.com